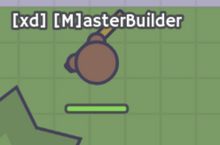 "great for gathering but very weak"
An Age 2 weapon that deals 1 damage, hits every 0.4 seconds and gathers 7 resources per hit. Equip with the
Monkey Tail
for 0.3 damage.
Technical
The Stick deals 1 damage per hit.
The Stick gathers 7 resources per hit.
The Stick can strike once every 0.4 seconds.
The Stick allows the player to move at 100% speed.
The Stick is unlocked at Age 2 as an alternative to the Short Sword, Hand Axe, Daggers, Polearm and the Bat.
Upon gathering 3000 Resources, the Stick will become the Golden Stick. The Golden Stick deals 1 (technically 1.1) damage.
Upon gathering an additional 4000 Resources (7000 total) the Golden Stick will become the Diamond Stick. The Diamond Stick deals 1 (technically 1.18) damage.
Strategy
Golden Variant
The Golden Stick deals basically the same damage as the normal Stick, the only difference is that it is colored Gold. It is technically the easiest Gold weapon to obtain if mining resources the traditional way. Much slower when grinding turrets due to its incredibly low damage.
Diamond Variant
Like the Golden Variant, the Diamond Stick is basically the exact same thing as the normal stick, but it is colored blue instead. It is just as easy to obtain the Diamond Variant as the Golden variant.
Trivia
Curiously, all of the Stick's sprites are off-center. It displays correctly in game though.
History
The Stick was added in version 1.4.
Footnotes
Gallery
Weapons
Primary



Tool Hammer



•



Short Sword



Secondary


Hunting Bow


•



Crossbow






 Repeater Crossbow 



•
 Musket (Removed) 



 Wooden Shield 



•

 Stone Shield (Removed) 

Unreleased

Shotgun